Business Card Cookie Box
When you're at an event, handing out your business card, the trick is to have a card that stands out above the rest. After all, you're competing with hundreds of others to land that important client. What better way to help people remember you than by including a small chocolate treat with your business card?
Choose a custom business card box that not only has your logo on the top, but also has your choice of chocolate confection or truffle inside. Hand out these business card boxes, and clients are sure to remember the company that gave them free chocolates!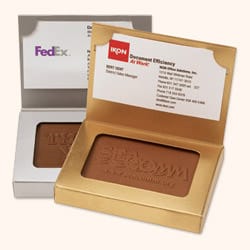 Business Card Cookie Box
$3.35
$3.14
$3.04
$2.93
$2.78