Cookie Confection Gift Boxes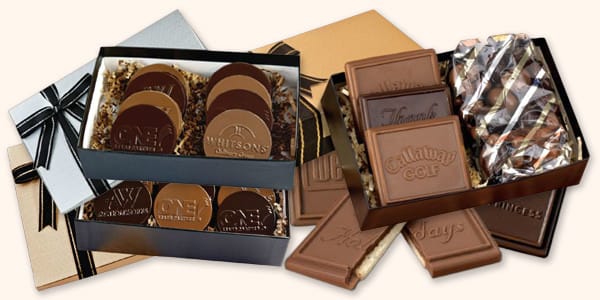 Cookie and confection boxes pair our delicious milk or dark chocolate cookies with your choice of one of our premium confections. Checking out our cookies or confections and just can't decide what to get? Get both! At just the right size, our cookie and confection boxes will give your lucky gift recipients a variety of delicious tastes, all packaged together in a stylish box.
Also available are our truffle boxes with your choice of up to four different flavors, including: milk amaretto, white tiramisu, dark cappuccino, and more. With four different packaging options available, we can print your name or logo onto the box for a customized gift to give to customers or employees. Give our cookie and confection boxes as gifts at your next company event or awards ceremony!
CLICK HERE FOR A FREE QUOTE!
---
Custom Cookie Gift Box
The perfect pairing — a buttery cookie with a creamy chocolate top. Our classic custom chocolate cookies are available in milk or dark chocolate and can be individually wrapped or included in a business card box. Customize the cookies with your own logo or design for an ideal way to promote your brand. With a business card box, not only are you handing a potential client your card, you're also giving them a delicious reminder of your business, one that they won't soon forget!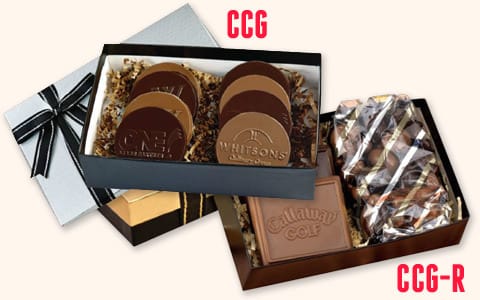 CCG
$16.10
$15.95
$15.50
$15.15
CCG-R
$16.70
$16.35
$16.10
$15.77
Non-Melt
Set-Up Fee $99 / Plate Charge $60
---
Cookies n' Confection Gift Box
This combination includes 6 milk and dark custom cookies and a decorative bag with your choice of premium confection, or fill the box with all cookies. Customize the cookies, the box or both to create a stunning gift.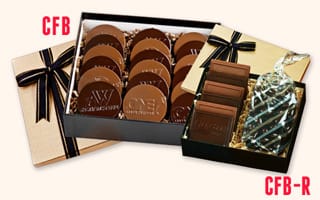 CFB
$25.60
$24.95
$24.45
$23.80
CFB-R
$30.95
$30.35
$29.85
$29.21
Non-Melt
Set-Up Fee $99 / Plate Charge $60
---
Other Gift Boxes