Foiled Chocolate Coins
For an instantly recognizable gift, choose custom chocolate coins from Chocolates 4 Less! Customize the coins by printing your own design on one or both sides of the coins, or choose the stock Liberty coins. The Liberty coins feature distinctive replicas of two different Liberty coins from the 19th century.
When promoting a business or organization, custom chocolate coins with your custom logo or design are a great promotional item to give to potential clients. Hosting a pirate-themed party or event? Have a treasure chest full of Liberty coins that people can grab and go. Custom chocolate coins are perfect for a variety of situations!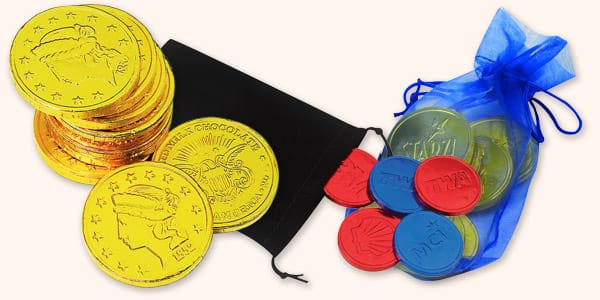 ---
Stock Coins
7 of our stock gold foil coins packaged in a rust colored mesh net. 3 Dollar (1.5") & 4 Half Dollar (1.25"), each molded as distinctive replicas of 2 different Liberty Coins from the 19th century, the golden age of American coin design.
Stock Chocolate Coins
$2.85
$2.80
$2.73
$2.63
CLICK HERE FOR A FREE QUOTE!
---
Custom Coins
This dollar size confection is available with your logo debossed into both the chocolate and foil. Milk chocolate coins are available in Gold, Red, Silver, & Blue.
Custom Chocolate Coins
$0.41
$0.38
$0.35
$0.33
$0.31
CLICK HERE FOR A FREE QUOTE!
---
Packaging Options
Other Chocolate Bar Products